GREEN SPACES
In a changing climate designing requirements for building spaces change accordingly to meet advanced standards of living greener. Cost cutting measures towards reduction in energy consumption ideally are specifiied during the design process, continue through out the building process and proceed with the life cycle of occupation.
The immediate factors, sun - wind - water - earth, naturally condition a local climate and are the players in designing low cost or even no cost green spaces. The zero energy house equals the energy production with the energy consumption.

 Did you know? It is possible to build fully autonomous zero energy houses.
The art of building GREEN SPACES is complex and varied. New findings and new technologies to lessen energy consumption oblige the building industry and associated professions to adapt fast and efficiently.
GREEN SPACES SCAFFOLD

GREEN SPACES has developed a framework, the GREEN SPACES SCAFFOLD, to support grouping the various options for green design and help structuring the course of actions for green building. Facts and latest solutions are being closely researched and up dated regularly.
The categories for the GREEN SPACES SCAFFOLD are:

PASSIVE SAVING:   exploring possibilities of energy conservation,.
ACTIVE SAVING:     checking the technologies of energy harvesting and
COMBINED SAVING: considering the optimum for designing GREEN SPACES. 
 
To design and build with support of the GREEN SPACES SCAFFOLD contact BUILDINGSPACES.
Note: Existing buildings can be retro fitted.

GREEN SPACES SCAFFOLD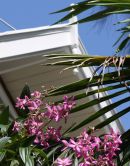 PASSIVE SAVING by energy conservation
 Saving energy by means of building
 

BUILDING SITE
Exploring environmental benefits of choice of building site if starting from scratch
 
POSITIONING AND ORIENTATION
Positioning of the house and building orientation in correspondence with earth direction and sun path
 
PASSIVE DESIGN CONSTRUCTION
Efficient building envelope design low in energy consumption collects solar energy for heating, rejects solar heat for cooling, catches breezes and protects from harsh weather conditions.
Passive Design typically includes:
Type of construction consisting of a preference in environmentally friendly building materials
Over hang depth evaluating solar altitudes
Thermal insulation
Window and door placement
Building elements and thermal mass
Smaller buildings conserve resources and reduce waste and land use
Guidelines for reduction of embodied energy consumed by manufacturing and transporting of building materials: use locally sourced materials, modify or refurbish instead of demolish, re-use and recycle materials, design for long life.
As a rule of thumb, the more highly processed a material the higher the embodied energy.
 


  Did you know?  Embodied energy of material and  component can be same as energy used in operating the building during life cycle. In conventional buildings embodied energy can be equivalent to 15 years of operational energy use!
 
'Green' roof with radiant barrier reflecting heat back to roof and less heat emitted downwards
Cool roof : white reflective membranes, coated roofs, planted roofs, white vinyl roofs.
 


 Did you know? Open staircases promote an unequal distribution of rising warm air between  upper and lower floors.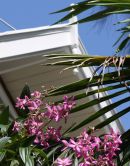 ACTIVE SAVING by energy harvest
 Saving energy by harnessing renewable natural resources


ENERGY HARVESTING
Installing of solar panels for solar photovoltaic system:
Solar cells collect and convert the energy of the sun to electricity. The excess of electricity produced supplies the grid for which the user gets credited.
By supplying the electricity grid with electricity surplus a zero energy house contributes to a two way active saving for private and public benefit.
Installing of solar hot water system:
Water for household use gets pumped up through solar panels and stored in hot water tanks of various sizes depending on need. A switch to conventional electric heating assures supply of hot water if direct sunlight is limited.
WATER HARVESTING
Installing of rain water tanks to collect rain water from roof.
Installing of grey water system to re-use houshold water by redistribution of waste water.
 Did you know?  The refrigerator uses up most of the energy in the household.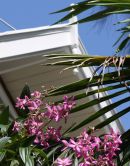 COMBINED SAVING by conserving and harvesting energy
Passive and active saving in building GREEN SPACES is a first hand step into action for cutting green house gas emissions. Passive saving saves in energy and also can save in building costs. Active saving requires an investment up front which will pay itself off after a certain period of time individually determined.
Passive and active saving combined can considerably decrease the environmental impact of buildings and operational use of the buildings, help establish a greener world and promote healthy living for the occupants of residential and commercial buildings alike.
The GREEN SPACES SCAFFOLD serves as a guide to a quick introduction of today's possibilities in building. Combined saving solutions are the optimal long term adaptation to the demand of consuming less energy and resources.
Contact us
Contact BUILDINGSPACES to learn about rebates from the government for installation of renewable energy technology and incentive payments for supplying the grid.