CHOICE SPACES
The planning stage involves sampling of possibilities and screening of product availability.
From fittings to furnishings CHOICE SPACES lists select products, manufacturers and suppliers around the building, designing and decorating industry.
BUILDINGSPACES takes care to select home grown business when ever possible and hand pick products and building materials which are Australian made, locally manufactured and observe the latest green living environmentally friendly standards.
Contact BUILDINGSPACES if your business or products fit the selection and you wish us to become an agent or trade partner.
CHOICE SPACES advances constantly to adapt to growth and development in the specified industry.
For a detailed consultation contact BUILDINGSPACES.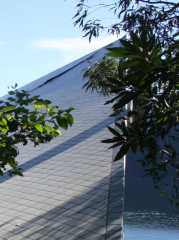 CHOICE SPACES SELECTIONS 
  Categories
  Office
  Home 
  Cafes
  Shops
  Suppliers
  Contractors
  General Business
   buildingspaces Product Design
  

Please note: All categories in this section under current construction complete listing coming soon...       
          buildingspaces Product Design
          buildingspaces own products label under ORBEY TM. ORBEY TM is a division of buildingspaces,
          designing and manufacturing furniture for the commercial and domestic market. The designs
        have a high utility content and are based on the need for functional, space saving and
        compact units which comprise of a universal appeal to fit a range of different situations and
        decors. The products are pleasing to the eye, stylish and contemporary. 

        All products by ORBEY TM are made to order. Colours, materials and sizes are customised.
        buildingspaces offers a special design service to assist with the over all design of new or
        existing spaces to ensure a perfect interior and a harmonious integration of our products.

   

ORBEY TM mini cafe 1000/12000
ORBEY TM mini cafe is a coffee/tea making facility with coffee machine, sink, mini fridge and storage compacted in a single unit.  The near autonomous unit is free standing and only requires a plug for the coffee machine and mini fridge and a water connection. Waste water container supplied. 
ORBEY TM mini cafe is designed for retail, corporate and domestic use.  
 
ORBEY TM. Jazz it up.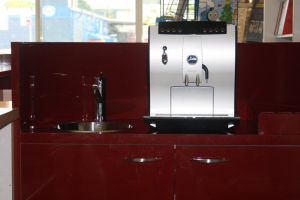 RETAI L
The perfect coffee solution for retail outlets. Setting the trend of serving up coffee to customers or selling coffee as take away, the neat unit is convenient and fetching.      
The stylish half-moon design fits all around to allow an effortless performance. Exceptional customer service at your finger tips.

Ask buildingspaces about fitted counters or benchseats to match up with the choice decor of ORBEY TM mini cafe.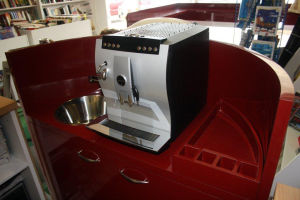 CORPORATE
A spot on coffee solution for the corporate world. Innovative design with polished finishes to compliment the up market corporate interior.The exquisitely curved unit fits into office spaces, meeting rooms, receptions and show rooms. The hospitable functionality works a real treat.


  
Contact buildingspaces to design your spot for ORBEY TM mini cafe and realize office interiors of functioning, maximized and stunning spaces.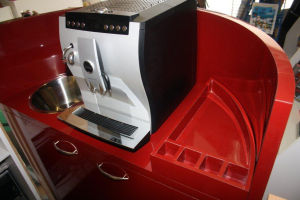 DOMESTIC
The ultimate coffee solution for private homes.
The universally designed unit services entertainment rooms, al fresco bbq areas and guest rooms, adding a new dimension to coffee/tea making.
A wealth of options for the luxury in sophisticated living.
 
  Buildingspaces is happy to assist with new designs of your home and selecting a gorgeous 
  decor for ORBEY TM mini cafe.


MORE ORBEY PHOTOS