Corporate    

    Residential    

   Retail    

    Hospitality

    

 

building prosperity                                 02 6687 2511 
From structural building to detailing and finishing BUILDINGSPACES spans the complete and integrated building and design service for interior and exterior living spaces.
New spaces, home extensions and renovations, retail and restaurant design and refurbishments, shop fitting, interior design  for holiday units, additions and modifications all under the same heading of adding value.
Awareness of space, simple practical solutions, coordinated living and harmonious composition are key elements of our design and planning concepts.
Taking the clients tastes, preferences and needs in consideration we thrive to create a harmonious whole of  the outside and inside appearance in regards to proportions, scale and detailing to deliver a successful building project.
Appeal and functionality combine to create surroundings in which working and living is inspiring and vitalising.


BUILDINGSPACES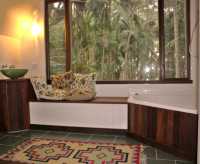 Masterbuilder, Designer and Carpenter Robert Ensbey, Director of BUILDING SPACES , opens a new chapter with integrating a comprehensive planning and designing service. 30 years in the building industry and still evolving and expanding, with an ever increasing attention to environmental measures for green living.

Beauty Interior Design Byron Bay
Stepping into a freshly designed interior feeling instantly at ease and welcomed is the essential premise.
Our intuitive approach transforms space into harmonious surrounds well adapted to diverse situations. Continuity of form and logical sequence of distributed space are the backbone of real design. Add an element of surprise to heighten the senses and create ambience to retreat from life in the fast lane. The pursuit of balancing proportions accurately leads to designs of compelling beauty.

BUILDINGSPACES integrates a comprehensive planning, designing and building service, from structural building to detailing and finishing, providing complete and resourceful building and design projects for interior and exterior living spaces.
 bbbb


Product Design
A division of buildingspaces.com.au
Go to CHOICE SPACES to view the latest products.